Okay for some of you that knows and may not know I am doing a super crazy important walk this next Sunday June 6th.
I am walking this year in the
2010 Susan G Komen Race for the Cure
in the Pugget Sound.
I am walking as part of a three piece group the
Lets Play Mamas
. Walking with my good friends
Kara
&
Mindy
but among thousands of people for this cause.
We all Walk for our Mothers, Grandmothers, Aunts, Sister, Cousins and Friends!!
Several years ago I walked this with my Sister and it was so inspiring. I felt a great deal of humility that I was fortunate to be healthy. I want to remain this way. But for the people who have been effected by Breast Cancer this event is a whole different story.
This year I set a Group Goal of $300.00 that would = 2 mammogram and hopefully save someone's life. In the beginning I was worried if I could raise $60. But I set a personal goal of also $300.00. Well as a group we've so far to today's date raised $775.00!! I
personally
have raised $400.00!!!
I myself am also walking for strangers to me in the one great meaning -Remembrance.
I was inspired by a Mom whom I've never met in person but who joined me in this cause. Thank you Lisa. So because of this I am collecting names. Names of Women who have been affected by Cancer.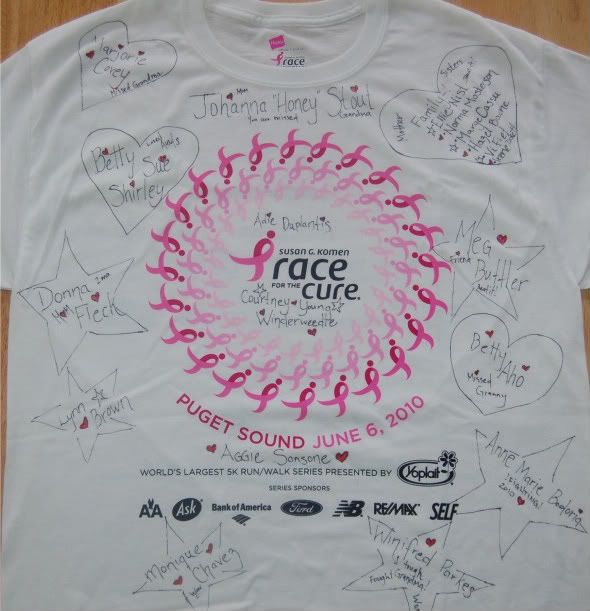 The Honor is all mine to walk across the finish line with the names of these brave women.
Some who didn't get to the finish line or the Ladies who are at the beginning of their journey and also the Women who persevered through and beat it!
So far I have gathered these names that I am proudly writing on my shirt:
Johanna " Honey" Stout
Donna Fleck
Betty
Shirley
Sue
Marjorie Covey
Meg Buttler
Courtney Young Winderweedle
Betty Aho
Anne Marie Bodoria
Aggie Sansone
Lynn Brown
Adie Duplantis
Monique Chavez
Winifred Parkes
Ellie Nist
Norma Masterson
Marge Cassou
Irene Duckett
Hazel Barene
Vi Fietz
We'll finish this race and cross that finish line, together. I walk with their name with Love.
Please there is still time. If you have someone you love and want named… Name them.
Contact me
I would be happy to take them with me!
And it never too late to
Donate
to this cause, every penny counts and could make a difference!
Lets Honor them in their Fight!
Please Click and Vote!!!